vSphere HA is a recommended low-cost ESX's feature that monitors virtual machines in a resource pool and detects downtime. In cases of downtimes, it powers on the virtual machines using resources on another host within the same cluster.
The powering on is possible since the virtual machine disk (VMDK) are all kept within a shared storage and are accessible to all the physical servers within the same cluster.
For optimal high availability, vSphere HA works well when combined with DRS to attain automatic failovers with load balancing in the VMware environment.
The virtual infrastructure is expected to be robust and always available with uninterrupted access to resources for business continuity. VMware High Availability (HA) therefore gives a solution that guarantees 100% access to the virtual environment at any given point.
Prerequisites to achieving HA
A minimum of two hosts in a cluster.
Install VMware tools.
All hosts must be connected to at least one management network.
All hosts must be Licensed for High Availability.
vCentre Server and ESXi versions that support vSphere HA
How vSphere HA works!
When HA is enabled, the following happens
HA agent that facilitates communication between each host is installed.
One host is elected the Master based on the number of datastores mounted on the host.
The remaining hosts automatically become slaves.
In the event of the Master becoming unavailable or offline, a new Master is elected among the slaves.
The slaves host primary role is to monitor signals and communicate with the vCenter server.
Host servers in the same cluster do communicate using a heartbeat, in this case, is merely a signal that everything is running as expected in the environment.
If the master fails to detect a heartbeat from other hosts, then it sends the vSphere HA to restart the Virtual machines on another host.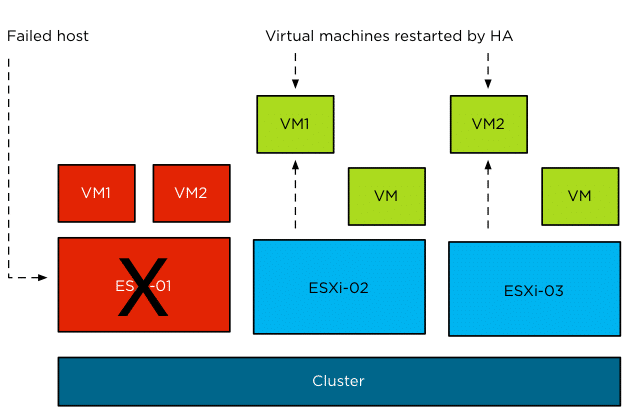 Steps to configure vSphere HA using vSphere Client
Best practice dictates that; create an empty cluster, then once you have planned VMware infrastructure your network and your architecture resources, you can proceed to add hosts to the cluster and build a data center.
This article covers; how to configure a cluster, enable where high availability and configure distributed resource scheduler (DRS) as they all work hand in hand to attain a balanced cluster in the virtual environment.
Creating a New Cluster
Note: vSphere client version 6 has been used for demonstration purposes on this document.
1. Login to your vCenter server using vSphere client and right click on the virtual datacenter then select New Cluster.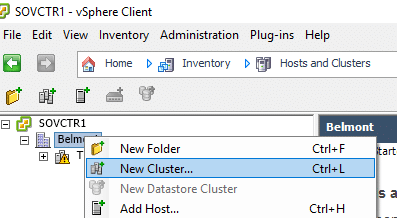 2. Complete the New Cluster setup wizard first, specify the cluster name as our example below "Test Cluster" Then Click Next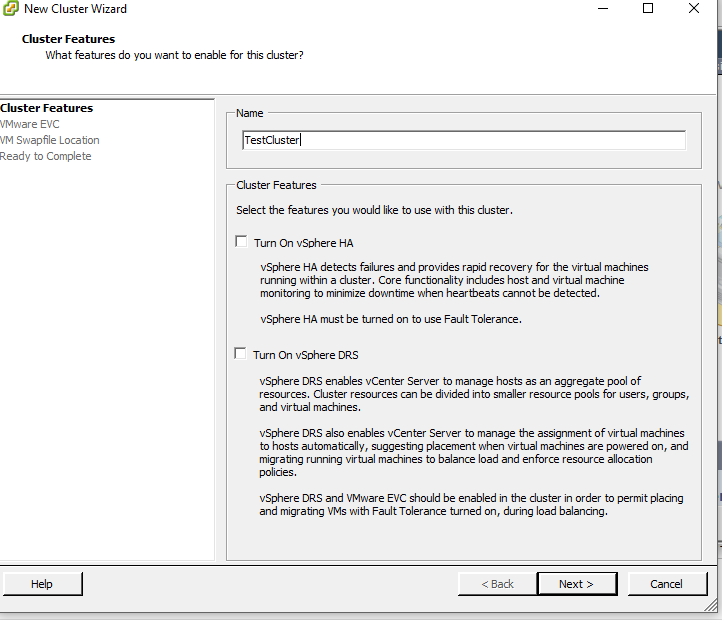 3. Select Disable EVC then click Next
Note: EVC aids in vMotion compatibility for hosts in a cluster by this, it prevents vMotion failures resulting from CPU incompatibilities. Disable (EVC) for this demonstration.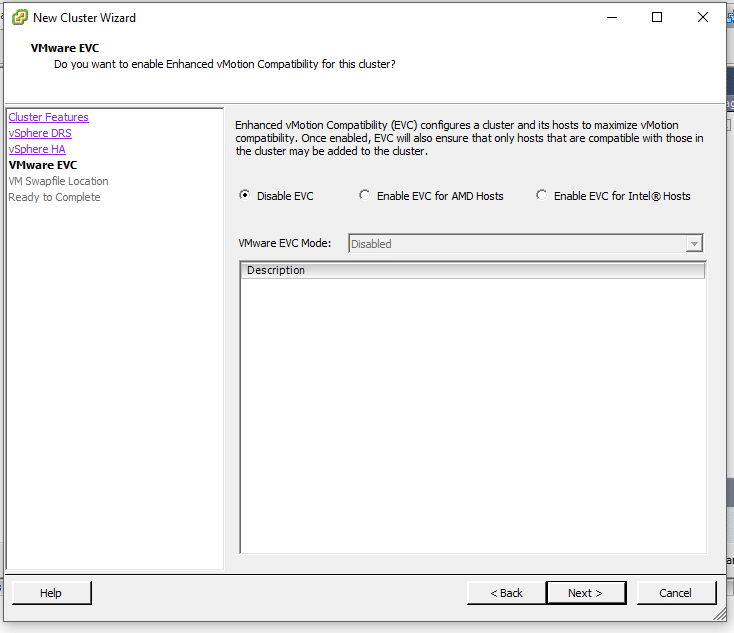 4.Choose Swap file location as recommended;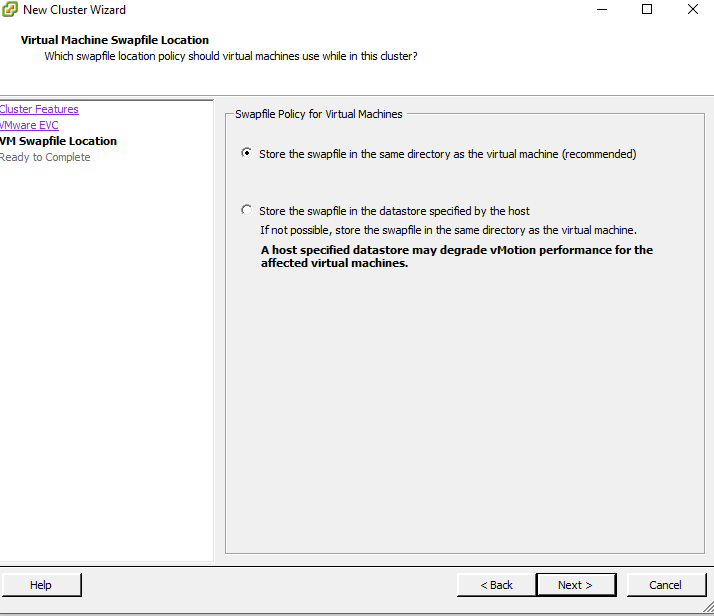 5. Review your settings and then Click Finish.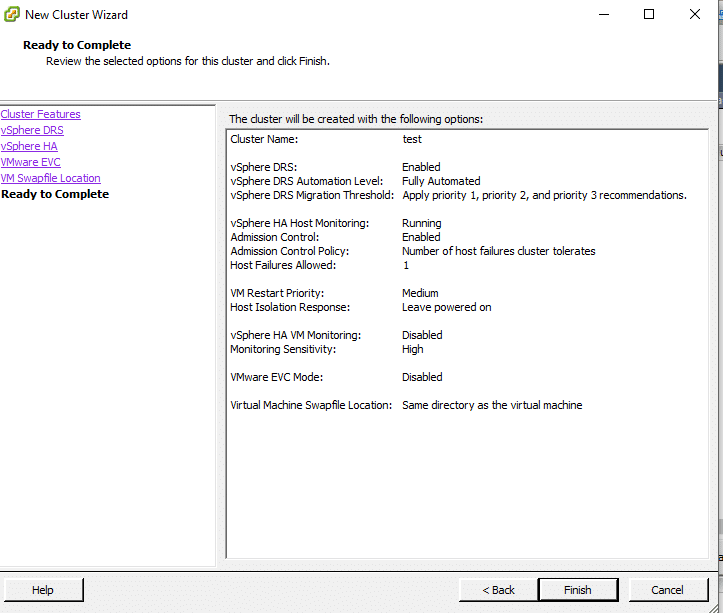 You have successfully created an empty cluster, at this stage, you can consider adding hosts and plan your resources and network architecture in the cluster.
Enable vSphere HA and vSphere DRS
1. Login to your vCenter server, Right click on the cluster you had set and click Edit Settings.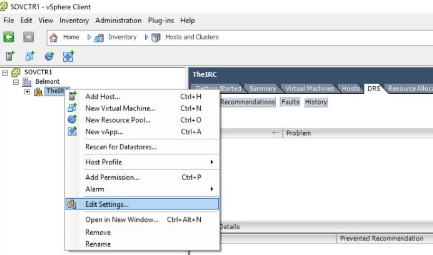 2. In the Cluster Features window :
Turn on vSphere HA: Aids in restarting of virtual machines on other hosts within the same cluster in case a host fails has to be on as it enables fault tolerance on any of the virtual machines in the group.
Turn on vSphere DRS: This aids with the balancing of the workload of virtual machines in a cluster, besides assisting with virtual machines migration.
Click Next.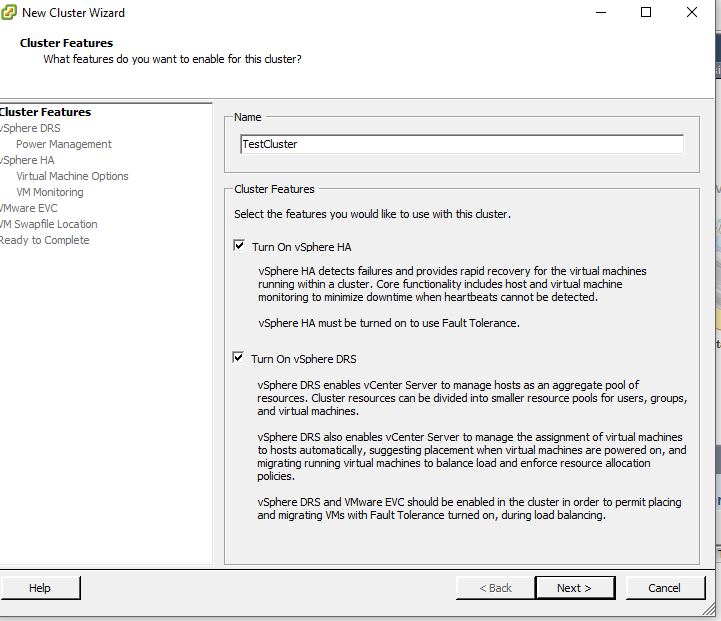 Configuring vSphere DRS
3. On vSphere DRS Option define the automation levels. Automation levels give alternatives to either put a virtual machine on the VMware ESXi hosts or a suggestion for migration recommendation.
Manual Automation Level: Simply gives suggestions on migration recommendation for virtual machines
Partially Automated: Automatic placement of virtual machines on hosts at power on besides giving migration recommendations.
Fully Automated: This feature automatically places a VM on the ESXi server that is least loaded.
Once you have specified depending on your requirements Click Next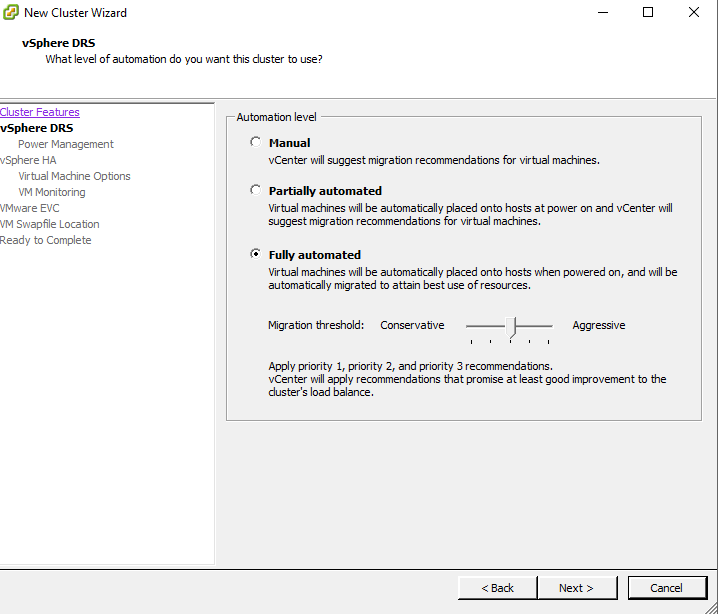 4. Specify the power management option for your ESXi Servers. Options available are manual, off or automatic.
Automatic option executes the power management related recommendations. Click Next when done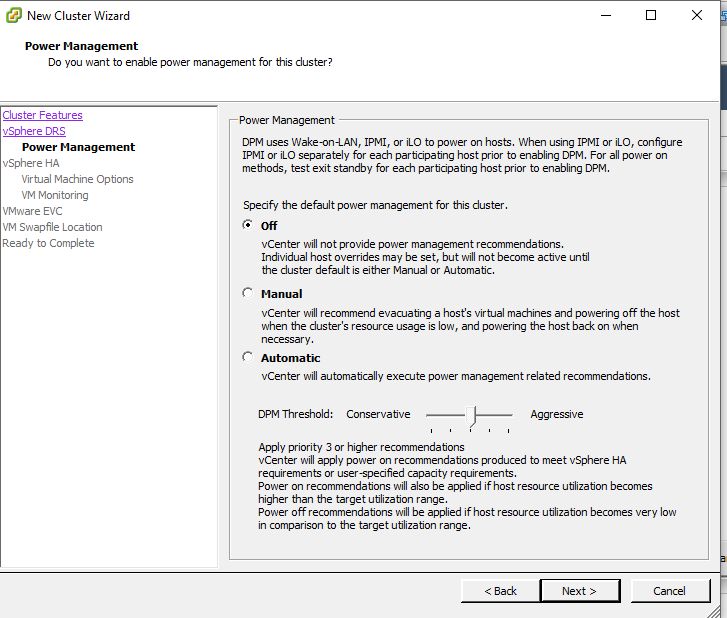 vSphere HA Configuration
5. vSphere HA configuration displays the below:
Host Monitoring Status: This is by default enabled. It is essential as it is needed to exchange network heartbeats. However, it is advised to disable this when performing network maintenance.
Admission Control: Determines amount of cluster capacities reserved for VM Failovers. This option does not allow a virtual machine to power on another Host if there are no available resources.
Admission Control Policy: Specifies the type of policy that admission control should enforce.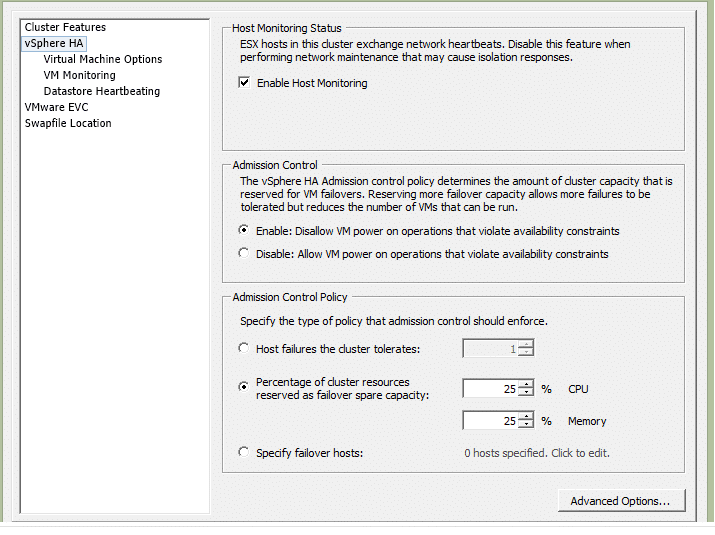 6. The Next window is for setup of Machine restart priority. Could be Low, High or Medium.
Host isolation response defined at this stage merely gives an option to set the action that should be in case a host is in isolation mode.
Leave it powered off, Power Off or Shutdown. One has an option to define the settings for a cluster or an individual Box
Click Next when done with the required settings, as in our case priority is set to medium and host isolation response powered on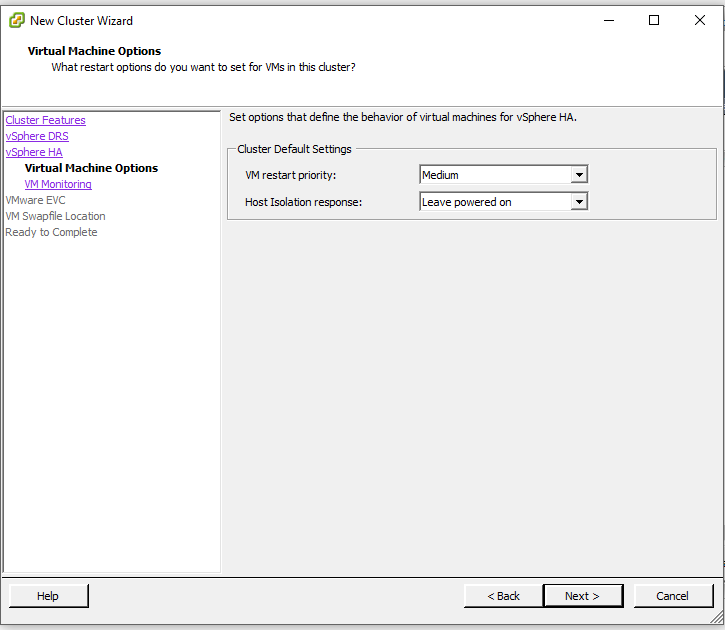 7. VM Monitoring – If no VMware tools heartbeats are received within a specified timeframe, Virtual Machines will be restarted.By default, monitoring is set to disable. Specify your settings and click Next.
We had initially specified our VMware EVC and Swap file location, Therefore click Next and Finish the Setup.
Click Next, then finish at EVC.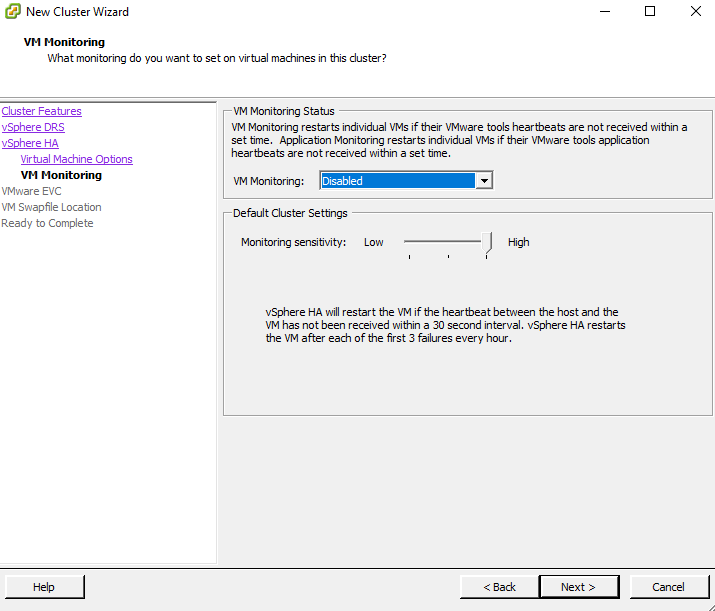 Note: vSphere HA can also use Datastore heartbeating to monitor the status of hosts and Virtual machines when there is a failure in the management network.
STILL SPENDING TIME ON SUPPORT?
Outsource your helpdesk support to save time and money. We have technicians available for little over 5 USD per hour in order to assist your customers with their technical questions. Grow your business and concentrate more on your SALES!
Xieles Support is a provider of reliable and affordable internet services, consisting of Outsourced 24×7 Technical Support, Remote Server Administration, Server Security, Linux Server Management, Windows Server Management and Helpdesk Management to Web Hosting companies, Data centers and ISPs around the world. We are experts in Linux and Windows Server Administration, Advanced Server Security, Server Security Hardening. Our primary focus is on absolute client satisfaction through sustainable pricing, proactively managed services, investment in hosting infrastructure and renowned customer support.